What do Walmart, Volkswagen, Samsung, and Chick-fil-A have in common? Each of these companies is a family-owned business that has had to navigate the challenges of transitioning from one generation to the next.
Each of these companies used succession planning to make it happen. A family enterprise coach focused on intergenerational transitions can help every step of the way, whether you have a global corporation or a small, local firm.
Passing a family business to a younger generation isn't as simple as handing over the keys. Without a structured foundation, this transition can be fraught with problems, misunderstandings, and disagreements — before, during, or after things are finalized.
Unlike a nonfamily business, related coworkers, managers, and owners often have unspoken assumptions about who gets what, when, where, and how. If the details aren't handled appropriately, the entire company can collapse. To preserve your legacy, you'll need to work with all stakeholders (both in and out of the family) to create the groundwork for success.
Here are seven critical foundations necessary for the often-complicated process of succession planning.
What Is Succession Planning?
Succession planning involves creating and implementing structured documents and decisions that allow business owners to transition management and ownership responsibilities to the next generation within their family. This process requires a focused effort that sets companies up for success well into the future.
Any seasoned executive knows the importance of long-term thinking, but familial expectations often allow C-level leaders to gloss over the planning process. By scheduling the time necessary for succession planning, you'll be strengthening the capacity for your company's growth long after any retirement party.
This is more than just deciding who's in charge. Succession planning helps identify the strengths and weaknesses that can arise when new leadership takes over. You'll be able to plan any needed training and skill development while ensuring each new member of the team feels valued and heard.
Relatives in a business often have emotional situations that must be handled with the care and consideration each person deserves. Instead of sweeping problems under the rug, leaders can work out solutions before any crisis.
By working with a trained family enterprise coach, you'll be setting up your business — and your loved ones — for success. Lay the seven critical foundations before the succession so there will be fewer issues afterward.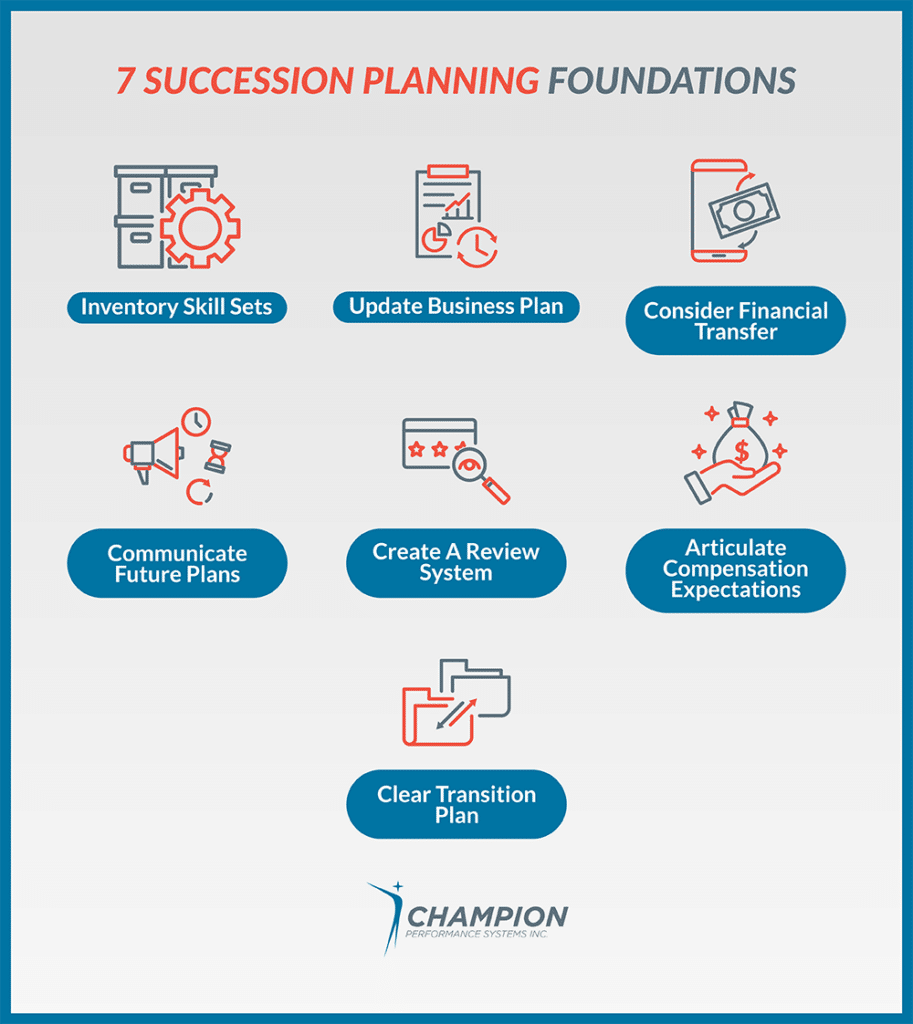 1. Inventory Skill Sets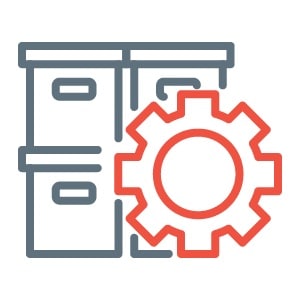 No matter how obvious you believe your intentions to be, there is bound to be confusion if you are not clear with your family. Your family's personal and professional plans may not be so apparent to you, either.
Before you make any announcements about what you envision for your company's future, start by taking an inventory of the skills and capacity of those you believe should be the next C-level leaders in your organization. Consider the family hierarchy fully. Clear social structures are commonly overlooked in this critical first step.
Do all of your children want to manage the business, or would some prefer to simply own the company? First-generation executives can benefit from a family enterprise coach's detached and knowledgeable perspective when creating this inventory of skill sets.
This initial step can help you identify new talent from within your family that you can develop before your departure. A family member who had worked in one role may excel more in a different position once given challenging assignments and proper training. You'll need to inventory not only skill sets but also personalities. Not everyone is a naturally gifted manager, for example.
Consider each family member's perspective. Instead of making surprise announcements, talk to each person to make sure you hear how they feel about their role in the company. It's important to be flexible and open to new ideas as you look to the future.
Always be supportive of your family. After all, you've worked hard to create this opportunity for them. They should be just as optimistic about the plan as you are. Keep an eye out for disappointment or unhealthy competition. Address problems head-on rather than ignoring emotions. After all, this is your family, and that's more than just business.
2. Have an Updated Business Plan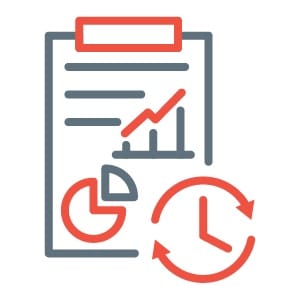 Many family businesses begin informally and, if successful, grow rapidly. But it is crucial to have a written document that outlines the values and procedures that serve as a structure for your business operations. If you don't have a vision for the future before a transition occurs, you cannot expect the next generation to pick up the slack.
Good business plans must include:
An executive summary
A description of company values and position within the industry
Competitive market analysis
A detailed list of services and products
Organizational framework
A comprehensive marketing plan
Financial structure and projections
Most leaders work with a business coach to establish a formal governing structure for the organization, which can include members of the family as well as other valued professionals. Be open to including a trusted attorney, accountant, and even other experts from your industry in the process. If you stay only within the family, you may limit your perspective.
When it is time to consider your succession planning, add a formalized exit strategy for yourself within the written business plan. Even if you have retired, you may wish to remain active as an advisor. Make this part of the succession planning so that there is no confusion about your role within the organization.
Even if you already have a business plan for your organization, you should consider it a dynamic document. Reviewing it with a business coach can help address any weaknesses before passing the torch to the next generation.
3. Consider Financial Transfer Strategies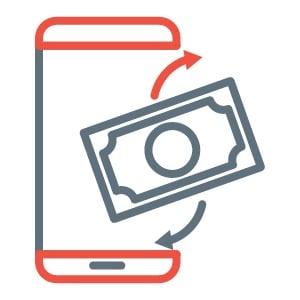 Talking money with family isn't always easy, so it's best to get it out of the way as part of the succession planning. This can ensure you'll properly sidestep any future concerns regarding nepotism or reverse nepotism. The structure of business shares or installment sales should be transparent and clear.
Commonly, family members have unequal situations. One person may need a guardian, while another doesn't. What would happen if someone within your family passed away before another? Thinking ahead will help everyone feel comfortable about the family business and avoid fighting.
You may wish to set up a system such as an annuity trust or a grantor trust. Decide now if you want to use life insurance as a tool to transfer the wealth you've earned and saved over the years.
Working through these challenging decisions in advance can save a lot of trouble later. To avoid accusations of favoritism, plan with a family enterprise coach rather than one or two family members.
4. Communicate Future Plans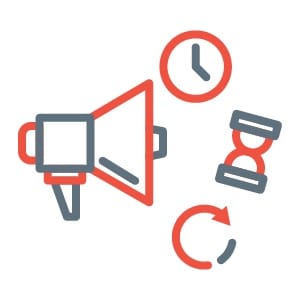 Once your succession plan is finalized in a written document, it's time to properly communicate your intentions to all family members and other stakeholders in your company. Avoid privileged conversations and be open and confident throughout the entire process. You may wish to hold a meeting with everyone at once, but enter the discussion with warmth and love just as you would any family gathering. Be sensitive to the reality that this time may be emotionally charged for some people in your family and organization.
When sharing your plan, do not limit the talk to simply what you envision for the business's future. Communicate the goals you have for family members who may plan to work for the business. While goals can change over time, be upfront about what you see for the company's direction and your loved ones.
Remember, the best leaders are also adept at listening. You must make sure everyone is on the same page to move forward. Ignoring concerns or not letting people share their opinions can create resentment that can build and destroy even the best plans. Let your family know how important they are, both personally and professionally.
If appropriate, you may want to share the transition plan publicly. By being considerate of everyone within the family, you'll be able to communicate with other stakeholders from a united front. This will help to strengthen your company from a marketing standpoint.
5. Establish and Document a Review System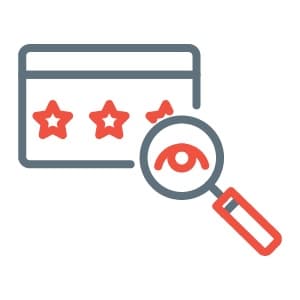 Perhaps the most challenging element of running a family business is battling perceptions of injustice. You can address this concern by creating structured and clear criteria as part of your succession planning. This way, your management team can evaluate everyone fairly, regardless of their personal relationship.
Both family and nonfamily employees should be treated the same when it comes to employee reviews. However, the reality is that members of the family have an added responsibility to the organization. Family businesses are built on value systems, and the company's reputation relies on family members honoring and strengthening those values. If someone isn't honoring the values you've set for your company, the situation needs to be addressed directly and fairly.
That's why it is also important to support your family in their chosen career path. Require specific levels of education and appropriate experience for each position through written job descriptions. If a family member wants to take on added responsibility within the organization, provide them with the tools and training they need to succeed.
6. Articulate Compensation Expectations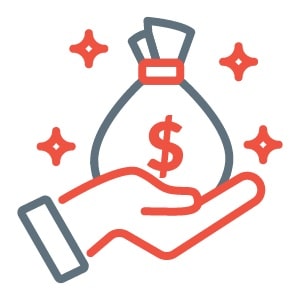 Beyond the cut-and-dry transfer of business shares, you'll want to determine a compensation plan for your employees — whether or not they are members of your family. This includes a basic salary that is in line with the market and benefits such as insurance, 401(k), perks, and a clear bonus structure.
If someone from the family is entering your company from outside the industry, you'll have to decide what is appropriate compensation. Sort this out in advance with the help of a business coach, rather than create an arbitrary and possibly unfair offer.
Not everyone in your family will want to remain within the company until retirement. Think ahead to create elements in your succession planning that will grant them the skills and compensation they need no matter what they choose in their life. Compensation can be in the form of educational benefits that create a foundation for a different future.
Conversely, if a member of the family shows dedication and excellent performance, you should also plan for potential growth opportunities to avoid them moving on to the organization's detriment. Smart succession planning can help them avoid the frustration of a dead-end career path.
7. Have a Clear Transition Plan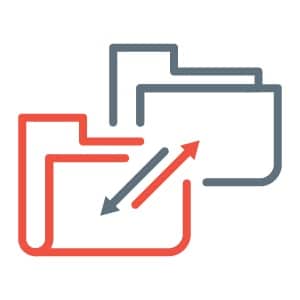 The transition of senior leadership is always challenging for an organization, and that's especially true for family-owned businesses. When a new successor is named, it can take time for the leader to be properly trained.
You'll want to start the process early — well before you retire and turn over the work to the next generation — so that you can be on hand to address problems as they arise. However, it isn't always easy to relinquish control of a company when you've built it from the ground up or even taken over from a previous generation. This is another time when a business coach can play an important role in smoothing the transition.
Sometimes, executives will require any family member who owns shares in the company to first serve on the management team. By gaining the skills and experience of the industry and the business, they'll have a greater understanding of what's needed for big-picture decisions.
What would happen if a family member was not performing well or there were other concerns regarding their benefit to the company? Your succession planning must include an established exit plan for the hiring and firing of all employees.
It may be appropriate to create a family pact that includes a code of conduct for all family members who are active in the business. By asking each member to sign off on rules you establish to join or leave the company, you can reduce future conflicts over such challenging realities as transferring shares of stock.
Again, it's most effective to have an independent and trained professional business coach to assist in this process.
Do I Need a Succession Planning Consultant?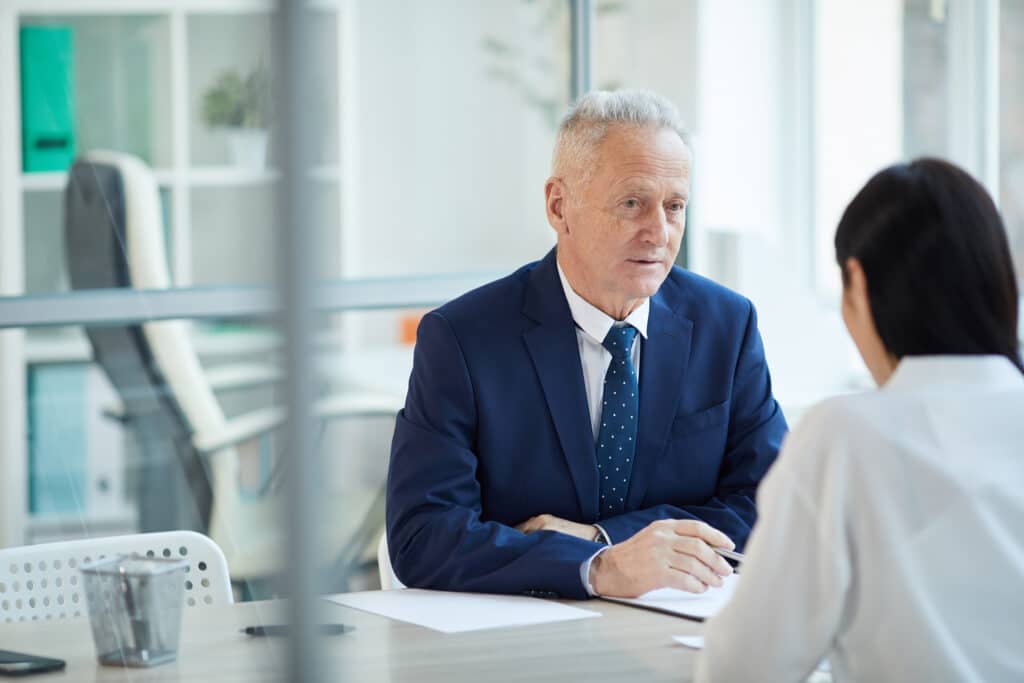 If you are a successful business owner, you don't need someone to tell you how to run your company. But that's not what a family enterprise coach does.
Instead, seasoned business coaches will guide you through setting goals for your company's long-term success long after you've retired. A coach can help you create and achieve a clear strategy for success that starts before succession planning and can continue for as long as it's appropriate. They can serve as a trusted confidant and advisor with the experience and perspective that you may lack.
The relationship between a business coach and an executive shouldn't be short-term. Instead, you can work together for the long haul — and also with the next generation after you've stepped down. Your business coach can provide a valuable, independent perspective built on years of experience. Coaches can help you measure your success and adjust your strategy if the ROI is lacking. You may also discover through initial conversations with a family enterprise coach that your business could benefit from other transitions.
It may be time to implement a digital transition strategy or invest in your personal wellness. A coach offers a fresh, professional outlook with the singular goal of helping your family business reach its ultimate potential.
Connect With Champion PSI Today
If you are considering embarking on the succession planning process, reach out to the experts at Champion Performance Systems Inc. Our family enterprise services professionals are trained and experienced in helping family businesses align values and plan for the future.
We can work with you as you consider each of these crucial foundational steps necessary to make the generational transition smoother. You can benefit from the independent perspective while preserving your legacy and reducing the possibility of conflict in the future.
Succession planning for family-owned businesses does more than just ensure proper protocols are in place for the company's long-term success. It also offers an opportunity to strengthen the relationships within the family by clarifying and communicating your vision and values. The process serves to unite an organization's owners, managers, and employees, which in turn solidifies its value in the industry. And when it's time to scale up the company, you'll have a trusted advisor who can help the next generation implement the necessary changes. To learn more, contact Champion PSI online or call us at (587) 897-3225.