Redstitch is a digital agency that aligns marketing and technology to help businesses reach their growth goals. Approaching its fourth year in business, the company consisted of only six employees, but the founders had built their own company around the idea of scaling.
After reading Verne Harnish's Scaling Up, they knew it wasn't a matter of if, but rather how long it would take to scale on their own.
"In Scaling Up, there are all these worksheets and heavy-thinking types of things. Knowing that we were a young company with a lot of work going on already, the challenge for us was if this [scaling] was ever going to become a priority if we didn't work with somebody that actually held our feet to the fire, so to speak". – Todd Chase, Co-Founder and CEO
The Problem
For three consecutive years, Redstitch had hit a ceiling bringing in roughly the same amount of top-line revenue each year. The two co-founders were working too much in the business and not enough on the business to scale at the speed they needed. The company's CEO, Todd Chase, was spending 90% of his time on web development (a service provided by the company) and needed to reach 0% to fulfill his true role as CEO.
Keen to predict roadblocks that would arise as the company grew, Chase wanted to get ahead of them, but knew they wouldn't do it without someone holding them responsible.
"We made the decision that we would much rather have somebody that knew how to use the Scaling Up tools and how to apply them to our business, but also hold us accountable for making sure we're getting things done and moving forward with working on the business. – Todd Chase, Co-Founder and CEO
The Decision Process
Because of their fondness for the book Scaling Up, Redstitch turned to Gazelles International to find a Certified Gazelles Coach. When evaluating their options, it was most important to a find a coach that fit within their unique culture.
Based on Redstitch's personality and sports-related background (named for the red stitching on a baseball), Gazelles referred them to Ken Larson (a former Olympic basketball player with a heavy sports and coaching background as well).
Because of Gazelle's intricate screening process and rigorous standards to become a Certified Gazelles coach, there was trust early in the relationship.
Redstitch talked periodically with Ken for 6-8 months before officially becoming a client. To ensure they were ready and committed to the process, the team hired a Client Services Manager. The co-founders anticipated this new role would serve as an internal driver to help keep them focused on the business, while Ken worked externally.
"When I think of executive coaches, I think back to the corporate world where we came from with stuffy guys in suits that really wouldn't be able to relate to us or our business because we are this young, ever-changing company. Obviously, Ken's not like that at all — it was a good fit from the start". – Todd Chase, Co-Founder and CEO
The Approach
Ken forced Redstitch's leadership team to spend time on the business they would otherwise make excuses for. They met with Ken via video chat or phone roughly 3 hours a month, in-person once a quarter for two days of intense facilitating, and through email as needed.
In such a young company, new challenges arise every day and there's little to no time to stop and think when you're trying to scale. Ken facilitates the right dialogue to help the leadership triad achieve clarity, reach the answers to their most obstructing roadblocks, and hold them accountable in their course of action.
"I always look at Ken as more of a sounding wall than a problem solver. It's nice to be able to say, 'I have an idea on how we can get past this obstacle, what does Ken think?' He has a wealth of knowledge from other people's experiences and his own and I think it's always good to have external people that aren't involved on a day-to-day basis that can weigh in. It's nice to have an outside perspective on the things we're going through, and someone to call timeout when we're going down a rabbit hole". – Todd Chase, Co-Founder and CEO
The Results
Quantitative Results: Top-Line Revenue
Since beginning their relationship with Ken, Redstitch saw a 66% increase in top-line revenue in 2017 and has continued to trend upwards since.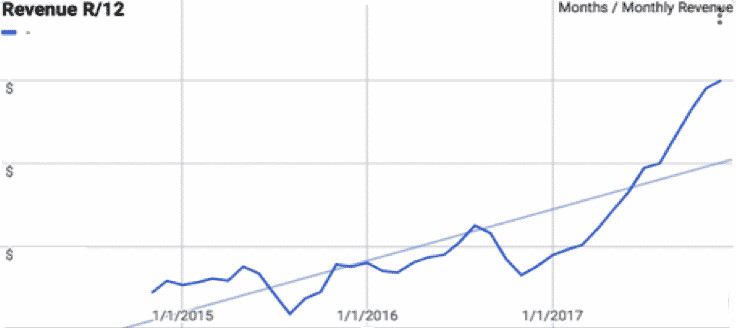 Anecdotal Observations
Ken brought Redstitch's leadership team a level of accountability that surpassed their expectations. He facilitated solutions to countless challenging bottlenecks that became great successes for them, including hiring, improving their sales process, meeting rhythms, dashboarding and reporting, and helped the leadership team reach a level of communication that couldn't have been achieved on their own.
"His personal check-ins are invaluable, and no two conversations are the same". – Jennifer Vaughn, Chief Operating Officer

"I love Ken's energy. I think he gels well with us, he's passionate about what he does … passionate about helping businesses and people be successful and live their dreams. I can't think of a more perfect coach for us". – Todd Chase, Co-Founder and CEO