With 25 stores and over 150 brands, Swimco is Canada's leading swimwear retailer for women, men, and kids.
"My mom started Swimco in 1975 as a mail-order swimwear company out of our basement, and she taught me to treat our customers as friends. Although we've become Canada's leading swimwear retailer, our core values remain the same — it's still about helping our customers feel confident in swimwear, so they can be free to enjoy some of the best experiences of their lives". – Lori Bacon, President
THE PROBLEM
Process was one of Swimco's biggest challenges. They lacked the process to pull everything together and to keep track of things, much less build a process to establish the company's strategic vision.
"Establishing a strategic plan was new to us. It was just me, my husband, and my brother determining the strategic plan, and we found we needed someone to help us with it. There was growth on the horizon for Swimco, and we had to figure out how to manage it. There were just a lot of things going on, and we needed that clarity, focus, and to bring our management team together. That's when we started looking at coaching". – Lori
As Swimco's president, Lori had been working with an executive coach before Ken, but felt they were losing traction.
"We were struggling with the coach's system, their tool, their template. We couldn't keep track of what we were working on from one meeting to the next and weren't focused at all. We weren't getting the most out of the relationship. It all became a constant to-do list". – Lori
Lori's husband knew Ken from TEC (The Executive Committee) Canada, making him a potential choice.
THE APPROACH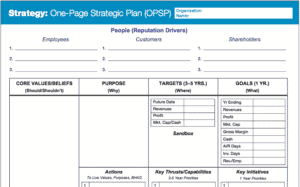 After an in-depth examination of Swimco, Ken and the leadership team dove headfirst into the Gazelles process. The one-page-strategic-plan (OPSP) was one of the tools utilized in this process.
The Tool: OPSP
Most traditional strategic plans are too lengthy, complicated, and lack a real connection between strategy and execution. The OPSP puts you in a position to effectively execute and to drive the results you seek.
"The one-page-strategic-plan was a new document for us, and a new way of keeping track of things. We Swimco-ized it and kept evolving it to better suit us, but the whole idea of having everything on one page helped us keep our conversations much more focused". – Lori
The previous template they had used with the other coach felt overwhelming, and the team became mired in the detail. The OPSP offered a high-level view and broke down their goals in easily digestible chunks: the next three years, the next year, the current quarter, and even down to the week.
"Ken also worked with me on an individual basis for about an hour every two weeks or so. We'd get together just one-on-one to talk about what was going on and any challenges I was having". – Lori
THE RESULTS
ANECDOTAL OBSERVATIONS
Working with Ken, Swimco instilled highly effective meeting processes and crafted better habits as a team.
"Ken provided us with a tool (the OPSP) that I believe has certainly helped us. There's no doubt about it. It focused our attention, got us talking about KPIs, and got us reporting on a regular basis. I liked that it was more objective than subjective because of the use of KPIs. Ken really held our feet to the fire, so to speak, and allowed us to perform better as an executive group". – Lori
Ken's goal is always to work himself out of a job, and in less than 2 years, he did just that.
"We said, 'Ken, we got this!' … which was great, and we could carry onward completely on our own. We've stayed with the Gazelles approach – we haven't abandoned it and moved onto something else. I think that says something". – Lori
Since their initial relationship, Lori has invited Ken back annually to facilitate their fiscal strategic planning session for the following year. Being a participant in the meeting, rather than running it herself, has been extremely valuable for Lori.
"Having someone that's not in your company all the time to provide an outside viewpoint is invaluable. We live and breathe it all the time as an executive group, and it was nice to have fresh eyes. Ken is very diplomatic, so he can handle differing personalities in the room. He asks good questions that really get you thinking. He's patient and enthusiastic". – Lori