Family-owned businesses face unique challenges, from transitioning to the next generation of leaders to streamlining operations. 
Business owners and leaders have access to several resources as well as expert consulting and advisory services. A family business coach can offer invaluable advice on how to navigate the complexities of a family-owned business. 
But what consulting is available? How do you know what to look for? 
In this blog post, we'll explore the various family-owned business resources and services available, what qualities to look for in a family business coach, and how to get the most out of working with one.
What Does A Family-Owned Business Coach Do?
A family business coach, sometimes referred to as a "family enterprise coach",  is a knowledgeable and experienced professional who specializes in helping family-owned businesses succeed and transition to the next generation. 
They provide guidance and support to help family businesses streamline their processes to increase efficiency, develop a clear vision for the future, improve communication, and ultimately foster unity among family members.
Family business coaches can provide assistance in many areas. Here's a quick list of some of the services a family business coach may offer: 
Strategic planning
Succession planning
Conflict resolution
Organizational development
Leadership development 
Financial planning Risk assessment and financial analysis
Qualified family business coaches can be a great asset to any family-owned business. They can provide a neutral perspective and act as a sounding board to help for better decision making.
Challenges Faced by Family-Owned Businesses
Family-owned businesses face several distinctive challenges that can be difficult to navigate. 
Transitioning the business to the next generation is often a complex process and requires careful planning. It is critical to ensure that the business thrives after transitioning to the next generation of leaders.
Additionally, family-owned businesses must balance the demands of running a successful business with maintaining strong family relationships. Communication and trust are essential for creating an effective team dynamic. 
It's also important for family-owned businesses to have clear policies and procedures in place to ensure efficiency and profitability. An effective system for decision-making is key for making sure everyone is on the same page when it comes to running the business successfully.
Benefits of Working With a Family Business Coach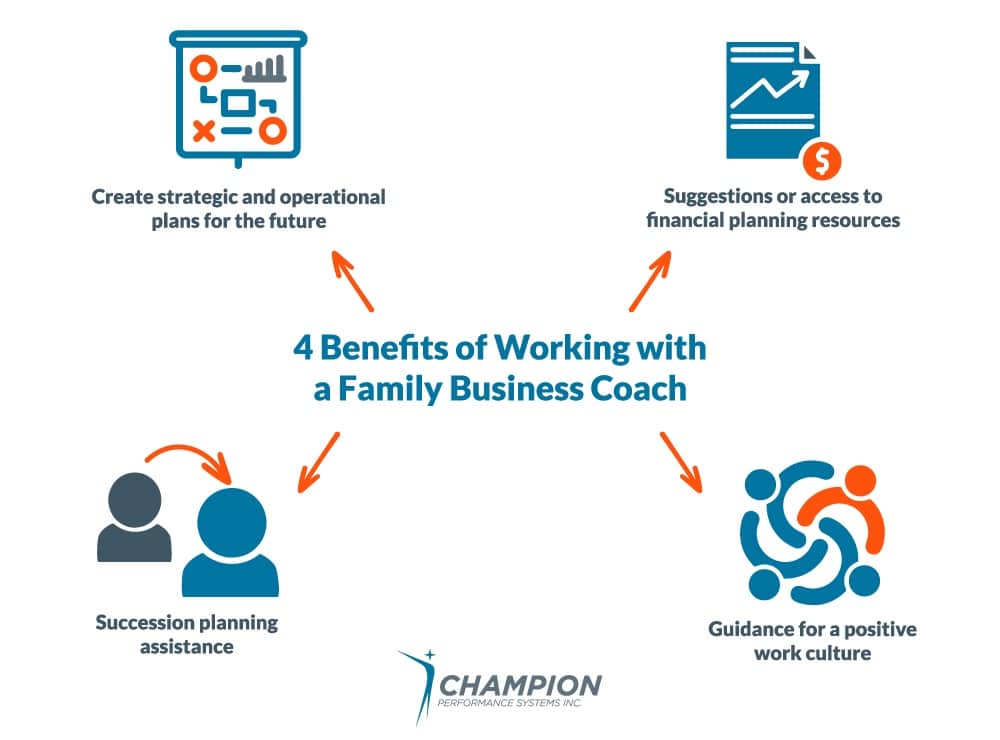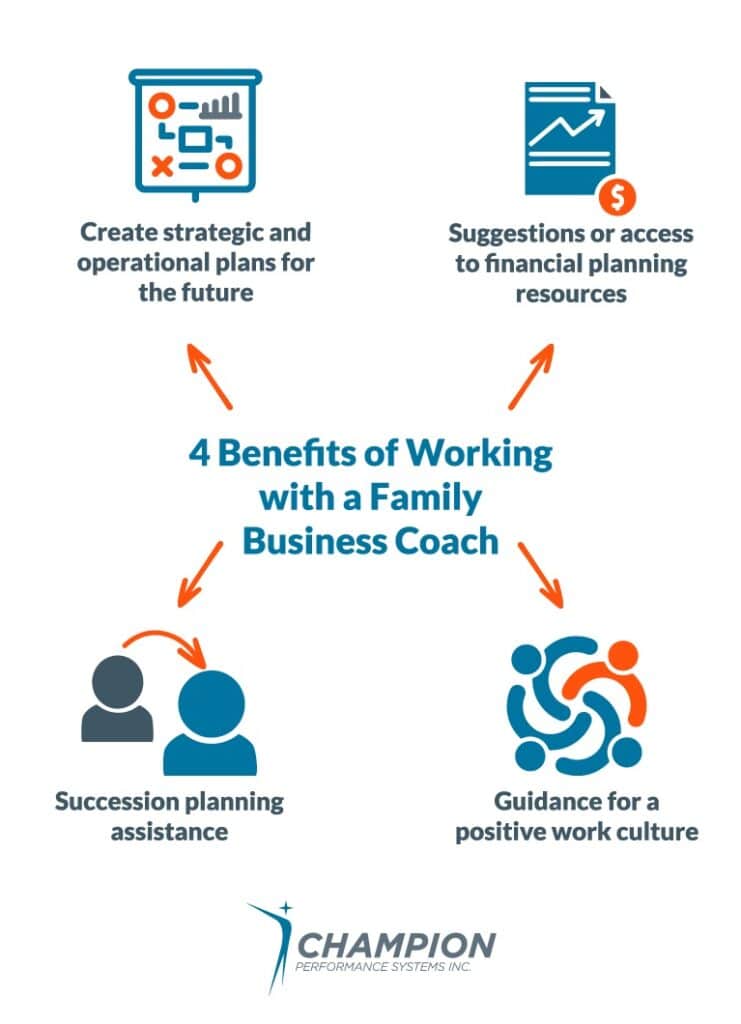 Family-owned businesses have affairs that can be difficult to navigate without the right guidance and support. 
A family business coach can provide much more than just advice – they can also help family-owned businesses create strategic plans and operational plans for the future. These are pivotal parts of long-term success and for keeping things running efficiently and smoothly.
Some specialists also provide financial planning, risk assessment, and financial analysis, but if that's not a part of their services, they can usually provide suggestions or access to financial advisors, legal professionals, and other experts who can help the business grow and thrive.
In addition, a family business coach can provide invaluable assistance in developing a plan for succession and ownership transition. This is especially important for those businesses that will eventually pass on to the next generation of owners. A family business coach can provide guidance on how to make this transition as smooth as possible while ensuring that all stakeholders are satisfied with the outcome.
Finally, a family business coach can help create a positive culture within the company by cultivating synergy among the family members who are involved in the business. They understand how important it is for everyone involved in the business to feel connected and supported, which is key to creating an environment where everyone feels respected and valued. 
With their assistance, families can create an atmosphere where everyone works together towards common goals to achieve success.
For all these reasons, (and more), it's no wonder why so many family-owned businesses are turning to expert consulting and advisory services to help them become more successful and profitable.
How to Select the Right Family Business Coach
Finding the right family business coach for your unique needs is essential for achieving success. With the right support and guidance, you can take your family-owned business to the next level. 
To ensure that you get the most out of your coaching experience, it is important to select a coach who is knowledgeable and experienced in the specific circumstances and situations of family-owned businesses.
When selecting a family business coach, start by doing your research. Ask for references and look at previous client testimonials and online reviews. You want to find someone who is open and honest, and who will listen to your concerns and provide constructive feedback. 
Request a consultation or a discovery call to discuss the challenges you are facing. Look for a coach who is non-judgmental and supportive, patient, understanding, and has excellent communication skills.
In addition to these qualities, you'll want a coach who is committed to helping family-owned businesses succeed and transition into the next generation. A good family business coach should be able to help you navigate difficult conversations with other members of your family as well as develop strategies that will help you achieve long-term success.
As an added bonus, ask the coach if they have experience in the specific industry that your business operates.
Questions to Ask a Potential Family Business Coach
When looking for a family business coach, interview potential coaches and ask questions about their experience and approach. Questions to consider asking include:
What is your experience working with family-owned businesses?
How do you help family-owned businesses achieve their goals?
What methods do you use when coaching clients?
Can I speak to any past or current clients who have worked with you?
Taking  time to research potential coaches before making a decision is the best way to select one that meets all of your needs and expectations. Do research and interview potential coaches to find the best match.
10 Expert Tips for Working With a Family Business Coach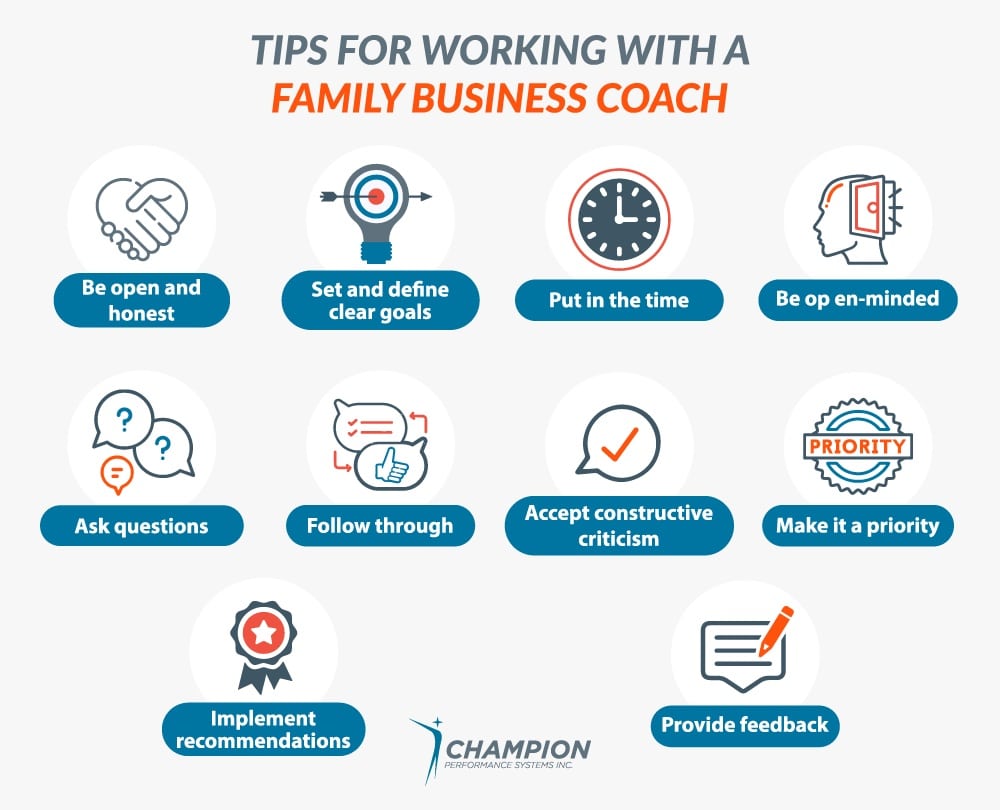 Working with a family business coach can be an invaluable experience. To get the most out of the coaching relationship, there are certain tips to keep in mind to fully embrace the process:
Be open and honest with your coach and be willing to listen to their advice and feedback.
Set and define clear goals and expectations for the coaching relationship.
Be prepared to put in the necessary time and effort to achieve the desired results.
Be open to new ideas and strategies and be willing to make changes if needed.
Always ask questions when you aren't sure about something.
Follow through on commitments and take action on the advice given by the coach.
Be willing to accept feedback and be open to constructive criticism.
Invest in the coaching relationship and make it a priority.
Implement the recommendations provided by the coach.
Provide feedback to your coach—it's a two-way street so explaining what worked and what didn't can help the coach adjust their approach accordingly.
Working with a family business coach can be an invaluable experience, but it requires commitment and effort on your part as well. By following these tips and demonstrating the discipline required, the results will be worth it. Those who are unwilling to accept feedback, or follow through with changes needed will not reap the benefits of the services.
Resources for Family-Owned Businesses
When it comes to running a successful family-owned business, expert guidance can be a great asset. Fortunately, there are plenty of resources available for family-owned businesses looking for help. Here are a handful of ideas to get you started:
These resources above are great for finding newsletters, seminars, conferences, and webinars that are specifically geared towards helping families make well-informed decisions when it comes to their businesses.
For those looking for expert consulting or advisory services for their family-owned business, there are plenty of resources available at their disposal, but having the guidance of a coach to help take the right steps and implement processes can be a very rewarding investment. 
With the right coach, family-owned businesses can gain invaluable insight into how they can succeed and transition to the next generation successfully.
Protect Your Family Legacy with Family Business Coaching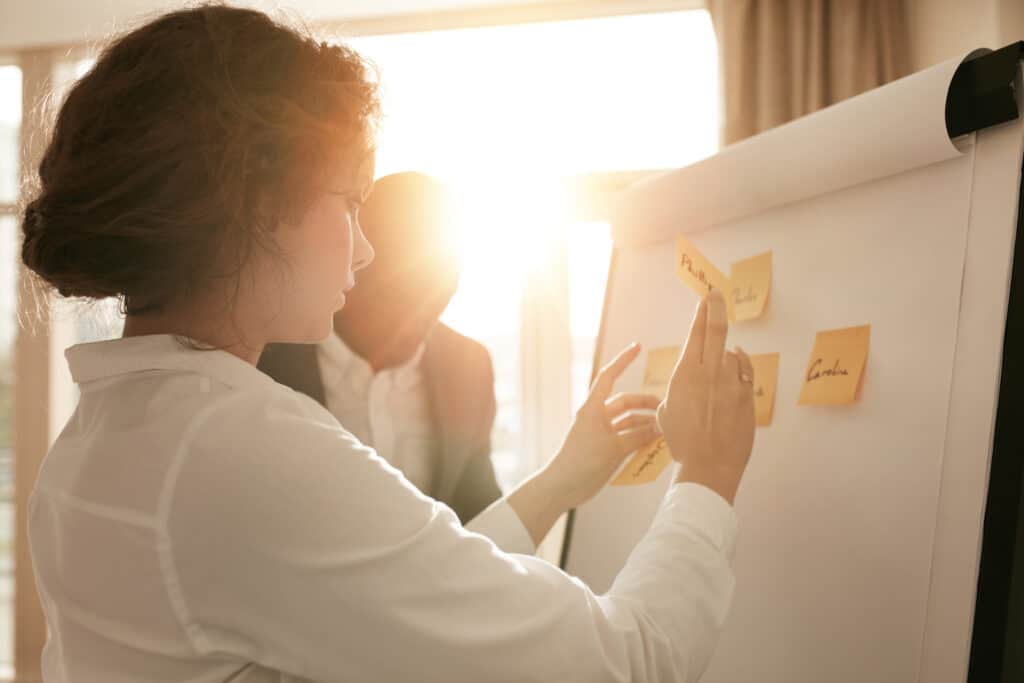 Family-owned businesses are unique and face many challenges. It is essential to have the right guidance, support, and advice to ensure that your family business succeeds in the long term. 
By working with a qualified family business coach, you will be able to streamline processes and make decisions with confidence.
At Champion PSI, we understand the unique needs of family-owned businesses and offer expert consulting and advisory services tailored to meet your specific needs. We can help you transition your business to the next generation so that it thrives for years to come. Contact us today for more information on how our services can benefit your family-owned business.